Falls Avenue Resort Hotels
Home of the Fallsview Indoor Waterpark, Falls Avenue Resort offers excellent hotels, only steps from the Falls, for your next Niagara Falls getaway vacation.
The hotels located on site with direct indoor connections include the luxurious 4-diamond Sheraton on the Falls Hotel, the grand classic Crowne Plaza Niagara Falls-Fallsview Hotel and the family style Skyline Inn Niagara Falls. The Hampton Inn by Hilton at the Falls is also located on-site.
Sheraton on the Falls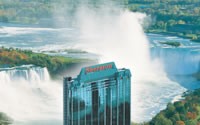 The Sheraton Hotel In Niagara Falls is a luxurious 4 diamond Fallsview hotel, directly connected to the Fallsview Indoor Waterpark. Located only steps away from the Falls and in the heart of all the action on the corner of Falls Avenue and Clifton Hill. The Sheraton hotel features 670 spacious rooms & suites many offering breathtaking Fallsview from floor to ceiling windows. Visit Sheraton on the Falls
Crowne Plaza Niagara Falls – Fallsview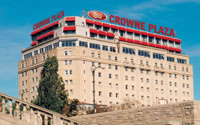 The grand classic Victorian style Niagara Falls Crowne Plaza Hotel is directly connected to the Fallsview Indoor Waterpark, located directly across from the Falls in the middle of all the excitement Niagara Falls has to offer. The Crowne Plaza Niagara Falls-Fallsview features incredible views of Niagara Falls from many of it's 234 guestrooms and suites. Visit Crowne Plaza Niagara Falls – Fallsview
Skyline Inn
The family style Skyline Inn is directly connected to the Fallsview Indoor Waterpark via an indoor skywalk, making it the ideal Niagara Falls Waterpark Hotel. Located minutes from the Falls, the Skyline Inn features unique family suites with 3 queen beds, housing up to 6 guests in one room. The Skyline hotel offers family movie night every night in the main courtyard of the hotel. Visit Skyline Inn
Hampton Inn by Hilton at the Falls
The Hampton Inn by Hilton is a 3 star hotel feet away from the Fallsview Indoor Waterpark. Located a couple of blocks from the majestic Falls and all the action in the tourism district. The Hampton Inn Hotel Niagara Falls Canada offers an indoor pool, whirlpool and sauna in the hotels atrium. Other amenities of the hotel include: complimentary hot/cold breakfast, free high-speed internet and free on-site parking. Visit Hampton Inn by Hilton at the Falls