Spectacular fireworks displays will once again light the night sky above Niagara Falls!  Visitors will be able to take in the brilliant fireworks displays for an incredible 144 consecutive nights!
Displays can be seen every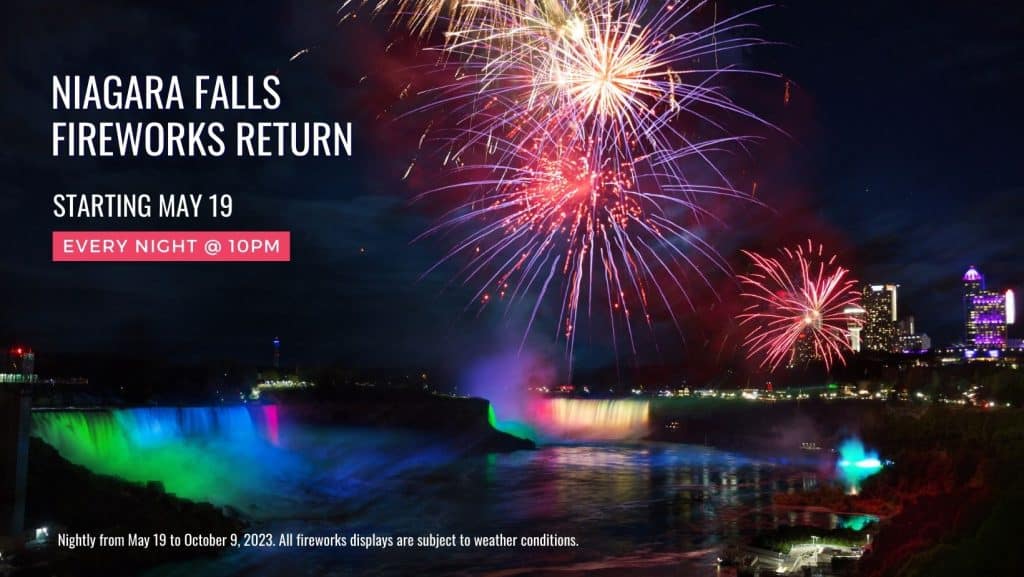 night at 10:00pm starting Friday May 19, 2023 through Monday October 9, 2023.
The Niagara Falls fireworks series is an iconic experience and is enhanced by nightly illumination displays which feature the famous Falls shining in a rainbow of colour.
Attending a fireworks show at Niagara Falls is a truly magical experience. As the sun sets and darkness envelops the landscape, anticipation fills the air. As the first firework soars into the sky, hearts skip a beat, and eyes widen with wonder. The cascading falls serve as the perfect backdrop, amplifying the beauty of the display.
While there are many vantage points to view the signature fireworks displays, one of the best locations is the comfort of a Fallsview guestroom or suite! Make the most of your Niagara Falls getaway by reserving a Fallsview room with a hotel waterpark package at Sheraton Fallsview or Crowne Plaza Niagara Falls-Fallsview to combine your experience, or take the short walk to the Falls to see the nightly display.