Canada's largest FREE outdoor light festival is about to return to Niagara Falls. The Winter Festival of Lights will bring magic to the tourist district from November 18, 2023 through January 7, 2024. The much-loved winter tradition transforms Niagara Falls into an enchanting winter wonderland and would be a charming addition to a family getaway featuring a Niagara Falls Hotel Waterpark Package.
The Lights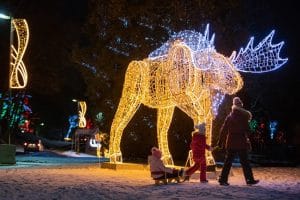 More than 75 illumination displays and 3 million LED lights will be on display along an 8km stretch of the Niagara Parkway, in Dufferin Islands and across the tourist districts. Visitors can drive or walk through the popular festival route to experience the outdoor, self-guided event. Displays are grouped in themes including Royal Promenade which features Princess and Knight, Lilac tree, lotus flower, fairytale village, Frosted Falls home to Elf, Candy Canes, Gingerbread House and family, and the Great Canadian North with Mama Polar Bear and Cub, stalagmites and the popular Royal Canadian Mounted Police. One of the most popular illuminations areas is Dufferin Islands which offers a wildlife collection including some of the most iconic displays. Flying geese, wooly mammoth, harvest moon, inukshuks, wolves, swans, bears, and Noah's Ark are on view. If your visit to Fallsview Indoor Waterpark includes a stay at a one of the four Falls Avenue Resort hotels, then you will find many of the displays are a short distance from your hotel.
Niagara Falls Fireworks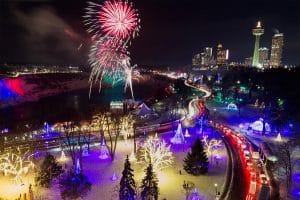 The festival will also offer spectacular fireworks displays above the Falls. A signature experience and attraction, fireworks will light the sky on Fridays and Saturdays at 8:00pm during the festival dates and expand to nightly displays during the Christmas holidays. Two displays are scheduled on New Year's Eve; 8:00pm and 12:00am.
November: 18, 24-25 at 8:00pm
December: 1-2, 8-9, 15-16, 22-31 at 8:00pm
December 31 -New Year's Eve: Two displays – 8:00pm and 12:00am
January: 1-7 at 8:00pm
Sparkling Illumination Displays
The Canadian Horseshoe and American Falls will come alive each night with a special illumination show that will captivate viewers. The display produced by the Niagara Falls Illumination Board showcases colour palettes and movements inspired by the festival's spectacular displays and winter in the north. The Northern Lights, fierce blizzard storms and falling snow are mimicked by the show. The display is part of the regular nightly illumination of the Falls, with the five-minute lighting display playing at the top of the hour, at 6:00 pm, 7:00 pm and 8:00 pm each evening during the festival dates.  Both the fireworks displays and illumination can be viewed from Fallsview guestrooms and suites at Crowne Plaza Niagara Falls-Fallsview and Sheraton Fallsview Hotel which can be reserved on a Hotel Waterpark Package which includes Waterpark Admission passes for 4 guests.
Hot Chocolate Trail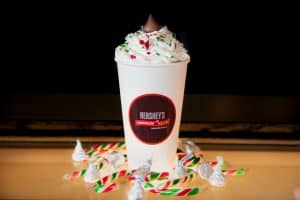 A sweet addition to the Festival last year is returning; the Niagara Falls Hot Chocolate Trail. Participating Niagara Falls Hotels and restaurants throughout the tourist district will be offering specialty cups of the decadent drink. Visitors can expect classic combinations and exciting flavours like mint, orange, s'mores, and flavoured marshmallows. Some venues are offering spiked versions featuring flavoured liquers or add-in's making this an exciting addition for guests of all ages. The Hot Chocolate Trail is available each day of the festival and Hershey's Chocolate World on our resort is one of the participating venues.