When it comes to family-friendly entertainment and aquatic adventures look no further!  Our 3 acre Waterpark in Niagara Falls has recently garnered accolades by being featured in Ultimate Ontario's top 10 best Waterparks in Ontario.  A guide to amazing things to do in Ontario, Ultimate Ontario features a team of local experts, travel writers and experience leaders who have selected our waterpark which is located in the heart of the Niagara Falls tourist district, and directly across from the Falls.
Let's dive into what makes our Niagara Falls Waterpark a must-visit destination for thrill-seekers, and water lovers.
A Thrilling Oasis of Water Attractions Directly Across From Niagara Falls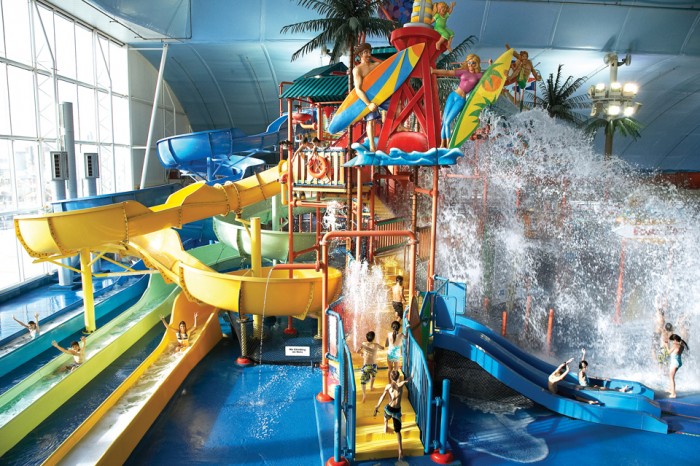 We have earned our place among the best Waterpark in Ontario by offering a thrilling assortment of water attractions that cater to visitors of all ages. From the 16 heart-pounding slides to the giant indoor wave pool, or the massive Beach House Rain Fortress with 1000 gallon tipping bucket, the Waterpark is a haven of aquatic adventure. The array of slides and attractions is nothing short of spectacular, promising a day filled with thrills and laughter.
Fun For All Ages 
The Waterpark provides hours of fun for guests of all ages.  Kids can experience their own aquatic escapades in safe and enjoyable environment. Tiny Tots Splash Park offers an interactive play area complete with water streams, mushroom water pods, kids slides, soakers and more. This area provides endless opportunities for children of all ages to splash and play even if they aren't quite ready to tackle some of the fastest slides around.
Play Your Way
While echoes of laughter and amusement float throughout the Waterpark, it can also be a space for those seeking relaxation. Whether soaking in the warm embrace of the hot tubs, floating in the wave pool, lounging poolside or settling down in one of our Private Cabana's available to rent, there's no shortage of ways to unwind and recharge.
Year-Round Aquatic Escapade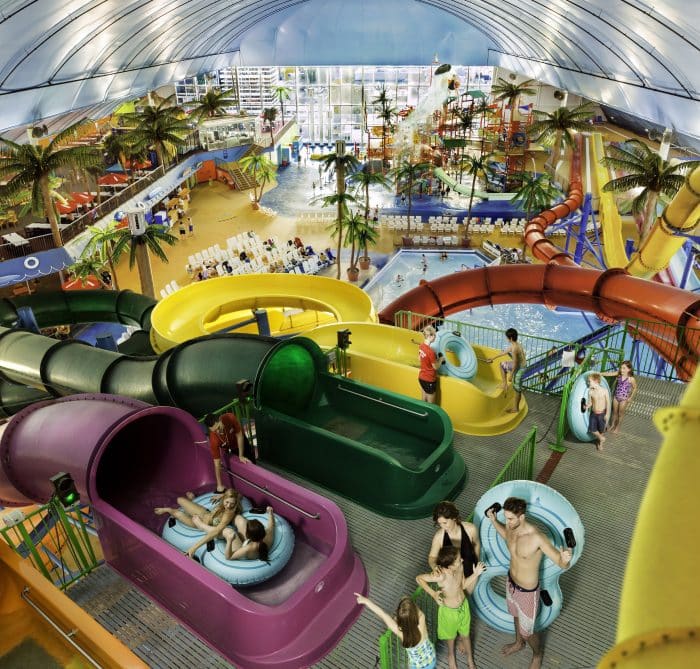 One of the standout features of Fallsview Indoor Waterpark is its year-round accessibility. While some Waterparks are seasonal, our indoor oasis ensures that visitors can enjoy its attractions regardless of the weather outside. Rain or shine, summer or winter, the Waterpark welcomes guests into its aquatic wonderland every day of the year with it's perfect 84 degree temperatures. Our Waterpark is also features a convenient indoor walkway from 3 of the 4 Falls Avenue Resort Hotels making for weather-proof fun.
Unforgettable Memories
Whether you're plunging down steep waterslides, giggling with your little ones in the wave pool, or simply lounging by the water's edge, Fallsview Indoor Waterpark promises an adventure filled with unforgettable memories. It's no surprise that the Waterpark has secured its place on Ultimate Ontario's list of top waterparks in the province.  It's a destination that truly lives up to its reputation among Ontario's best waterparks. So, gather your family and friends, endless fun awaits at Fallsview Indoor Waterpark.
Reserve Your Hotel Waterpark Package Today featuring one night hotel accommodations and 4 Waterpark Passes, and experience one of the top waterparks in Ontario!