Niagara Falls is home to exceptional family experiences.  While we know you will want to spend as much time as possible splashing in the wave pool, sliding down our 16 slides, or chilling in a private Cabana at Fallsview Indoor Waterpark, we know that there are also a lot of great attractions in Niagara Falls to discover.
Here are a few of our favourites to add to your stay!
Fireworks Over Niagara Falls
After a day in the Waterpark experience awe-inspiring fireworks displays over Niagara Falls!  The iconic displays take place each night at 10pm so it may be later than some of our guest's bedtime, but it is vacation after all!  There are many vantage points from where you can see the display light the sky with brilliant bursts of colour. Some of the most comfortable locations, are the Fallsview room and suites at Sheraton Fallsview or Crowne Plaza Niagara Falls-Fallsview-which offer direct indoor connections to the waterpark!
The Tunnel at Niagara Parks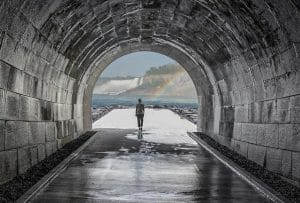 Niagara Parks' newest attraction; The Tunnel at Niagara Parks Power Station opens July 1. The fascinating attraction takes guests deep below the generating station's main floor via a glass-paneled elevator to a never seen before underground world.  Guests will learn about the 100-year old station and the 2,200 foot long tunnel which once expelled spent water from hydroelectric process back into the river.  The end of The Tunnel reveals a newly built viewing platform at the edge of the Niagara River where guests will experience unprecedented panoramic views of the Falls.  Tip; you will get wet on the observation deck, but not as much as a day on our waterslides, so plan accordingly.
Adventure City
Located on Falls Avenue Resort between Sheraton Fallsview and Hard Rock Cafe, the 17,000 square foot Adventure City arcade is a great choice for excitement.  With more than 125 arcade style games, Glow In the Dark mini golf, and Bumper Cars there is a game sure that will please every member of the family. Don't forget to collect tickets from the games to redeem for a special souvenir of your visit to Niagara Falls and Adventure City.
Theme Dining & Treats
Did you know that Fallsview Indoor Waterpark is connected with the only Rainforest Cafe in Canada?  With a menu of wraps, salads, burgers, sandwiches, pasta there will be something for even the pickiest of eaters, but the surroundings are even more impressive. Entering below an 80 volcano, you dine under a simulated rainforest canopy in the company of animatronic creatures including Elephants, Gorillas, Snake, and encounter an indoor thunderstorm every 20 minutes with a rainwall, lightning and thunder.  Another great option is Hard Rock Café. With its rock and roll theme, priceless musical artifacts, and an extensive menu of food and drink options, it is a great spot to dine and introduce the kids to music history.  For dessert, head to Hershey's Chocolate World Niagara Falls for decadent milk chocolate dipped strawberries, thick & rich milkshakes, and signature Kisses or Sweet Jesus Ice Cream for soft serve that is truly a work of delicious art.
After a day of waterfun at Fallsview Indoor Waterpark, head out and experience Niagara Falls top attractions, restaurants, and all that Niagara Falls has to offer!